Archive for September, 2010
LA Adventure Specialist -
8:24 30 September 2010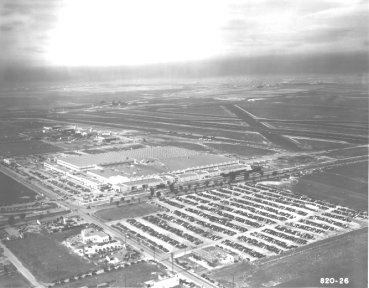 Los Angeles Municipal Airport (Mines Field) which, after the war, became Los Angeles International Airport, was used extensively during the war by the Army Air Forces, Navy and local aircraft manufacturers, and continued to function as a commercial airport. The Air Transport Command and Air Technical Service Command had operations here and their was a large military air freight terminal.  Today when we fly over lax on our private Los Angeles helicopter tours, the landscape looks dramatically different.
October 1, 1928
Los Angeles Municipal Airport, originally known as Mines Field, begins operation.
1929
The first structure, Hangar No. 1, is built.
June 7, 1930
Official dedication
December 5, 1946
Commercial airline service begins.
June 1961
Vice President Lyndon B. Johnson dedicates the new Jet Age Satellite terminals.
October 1, 1978
50th Anniversary of LAX
November, 1983
Second-level roadway and ticketing connector buildings are completed.
January 1984
Terminal One is completed.
June 11, 1984
Official dedication of the Tom Bradley International Terminal
July 1984
LAX welcomes participants and spectators to the XXIII Olympic Games.
June 1991
Hangar No. 1, refurbished in 1990, is accepted as a National Historic Landmark and listed in the Register of Historical Places.
December 18, 1992
Los Angeles City Council designates the Theme Building, built in 1961, as a City Cultural and Historical Monument.
December 5, 1996
50th Anniversary of commercial airline service at LAX.
January 31, 1997
Encounter Restaurant in the Theme Building, with its space-age interior opens.
August 2000
LAX Lighting Ceremony for pylons.
New Gateway to Southern California
October 1, 2003
LAX celebrates its 75th anniversary.
Geography
The airport occupies 3,425 acres (1,386 hectares) within the City of Los Angeles Reference point coordinates are 33o 56′ north latitude by 118o 24′ west longitude. Elevation is 125.55 feet
General Statistics
LAX is the fifth busiest airport in the world based on number of passengers.
In 2006, 61 million passengers used LAX (16.9 million international; 44.1 million domestic).
LAX ranks eleventh worldwide in tons of air cargo handled, with more than 2 million tons of freight and mail shipped in 2006.
There were 656,842 operations (takeoffs and landings) in 2006.
LAX has nearly 25,000 parking spaces.
Approximately 80 passenger carriers and 20 cargo carriers serve LAX, including all major airlines. There are nine terminals with more than 140 aircraft parking spots for commercial airlines.
Area in the terminals total 3,829,052 square feet (355,860 square meters). Cargo terminals have over two million square feet of handling area.
The airport has four east/west parallel runways: 24R/6L is 8,925 ft.; 24L/6R is 10,285 ft.; 25R/7L is 12,090 ft.; and 25L/7R is 11,095 ft. All are 150 feet wide except for 25L/7R which is 200 ft. wide.
The FAA Control Tower began operation in April 1996. It stands 277 feet above ground and utilizes state-of-the-art equipment. The old Control Tower, built in 1961, is 172 feet tall and served LAX for 35 years.
Economics
The annual budget for LAX is more than $524.1 million for 2008.
LAX contributes $61 billion to the economy each year or $167 million each day.
Approximately 408,000 jobs are directly or indirectly due to the airport, including more than 59,000 jobs at 254 firms at the airport itself.